Fedor Durandin is a pianist and a pop and jazz singer, an artist of the music ensemble and orchestra in the city of St. Petersburg.
Jazz, Saul, Pop, Rock Music... Original Arrangements
Fedor Durandin is a young performer, singer and pianist from St. Petersburg - Russia, a student of David Goloshchekin, a soloist in the Jazz Philharmonic, a regular participant in the Hollywood and Broadway Melodies program.

He can handle any music, jazz, soul, pop, lounge, rock, author's melodies, non-standard arrangements. Accompanied by a piano or a mini-orchestra, his fascinating voice makes you think and reflect, fills your life with colours and emotions, gives you energy and pleasure.


"Music is a freedom that transcends boundaries and conventions, destroys the frames of traditional formats and styles."


Fedor Durandin performs classical jazz, soul, lounge, pop and rock music. Hollywood and Broadway melodies, favourite movie music, Frank Sinatra's singles, Errol Garner, Matt Dennis, Stevie Wonder's singles get a new sound.


He sings not only as a soloist, but also as part of the ensemble, the a cappella group PlusFive and the CappuccinoChai cover band. Jazz standards, R'n'B, lounge, pop ballads, covers of popular hits are accompanied by guitarist, bass player, pianist, drummer.
Dynamics, development, movement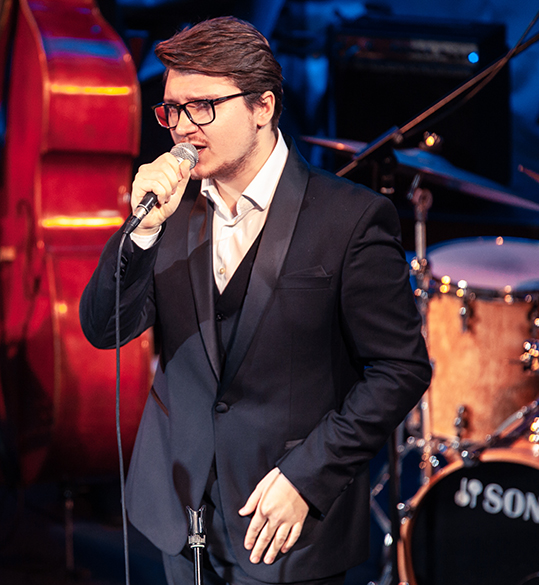 Fedor Durandin graduated from the piano department of Rimsky-Korsakov College, Herzen Russian State Pedagogical University, Jazz and Musical School.
The artist constantly acquires experience and improves his skills by participating in music competitions:
International Competition of Young Artists "Autumn Marathon 2014" organized by the Philharmonic of Jazz Music (title of the winner)


Big Sky International Competition (Moscow, 2017)


International Jazzman Competition (St. Petersburg, 2018)
He generously shares his knowledge and experience as a piano teacher at Children's Music School No. 41 and leads private singing and piano lessons.

You can listen to Fedor Durandin both in the large prestigious halls and in the chamber halls.
Mariinsky Theatre

Grand Concert Hall Oktyabrsky (BKZ)

The Saint Petersburg Court Chapel

Cultural and leisure center Moskovsky
The permanent venue for Fedor's performances is the St. Petersburg - "Jazz Philharmonic Hall" - Russia. But his voice also sounds in small cosy clubs and at corporate events for selected public.

Live emotions, sincere feelings
Fedor Durandin is a regular participant in St. Petersburg jam sessions at the Jazz Philharmonic, Kvadrat Jazz Club, The Hat Bar, White Night Restaurant. These are the musical performances, in which the musicians demonstrate their skills, give pleasure and emotions to the listeners, improvising on a given theme in a free form, without having anything prearranged.
Touch the music, feel its power and become a part of it at the performances of Fedor Durandin!